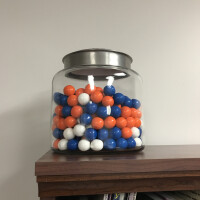 I blogged about my 300 gumballs last fall, but I think it's important enough to revisit. I spent some time with a calculator and a calendar and all the figuring led me to the fact that there are approximately 300 Sundays from the time a student starts junior high until their high school graduation.
Three hundred is NOT very many!
As we plan, I have to consider our goals, our core values, & student needs. Goals take time to meet. Values take time to develop. Needs take time to identify and serve. As I pray about how to best serve junior high students and their families, I will often think about the gumballs. People will sometimes come into the student ministry office, my family included, and ask for a gumball. I just won't share them. And by now, they'd likely chip a tooth after a year on the shelf.
I need the visual reminder. Seeing the gumballs from my desk chair is a consistent visual impression of the fleeting time that Fire & Water has with students. And of the fleeting time parents have with their students. As the needs of our ministry evolve, I have become aware of an increasing need to equip parents to disciple their student. A desire for increased intergenerational involvement came out of a series we did about the church last spring.
To help foster parental discipleship & break down some generational silos, junior high Bible study is changing this year. We will join the Who is Jesus? study on Wednesday evenings this fall. The study is open to anyone junior high age and up. I have been encouraging students to attend with or without their parents. I invite parents to be a part of the group as a joint study will foster spiritual discussions in the family. There is childcare available for anyone younger than junior high age. I'll be there to sit with junior high students who come alone or who don't want to sit with their parent(s), but we'll encourage intergenerational conversation and relationship building.
So, if you have a junior high or high school student I hope you'll consider bringing the family on Wednesday evenings. If you don't, I hope you will come too because we need what you have to offer the conversation. The study begins on September 6th. It is not cumulative, so you can come as much as you are able. Bring a Bible and meet us in the Narthex outside the Sanctuary at 7pm. Let me know if you need childcare.
I am excited about this way forward. A parent/child study was where God led me in early summer and the next day Troy shared that he was leading this study in the fall. Most certainly a God at Work moment! I pray you'll consider being a part of this study and how you can impact the 300 Sundays for our Fire & Water students.
Blessings,
Liz Simmonds
Director of Jr. High Student Ministries
Because people like numbers…in the 300 Sundays we have approximately:
290 Sunday school lessons
175 Sunday evenings
180 Bible studies
6 mission trips
6 winter retreats
6 other retreats
Many serving opportunities including 24 Bingo times & approximately 192 Supermarket Sweeps Thursdays
Immeasurable conversations
And more
There's a certain weight to those numbers. And a hope. How may we use the time best? Asking for our church family will join me in prayer for our students and that we may use our time wisely.