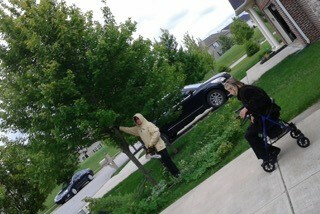 Last month, thirty-eight people of all ages gathered on an unseasonably cold Saturday morning to simply be love in action for a senior neighbor in our community. They scraped paint, power washed an ENTIRE house, prepared flowerbeds, delivered care packages they had assembled, and the list goes on… I went out to visit those who were serving, feeling a bit sheepish that I had gotten them into this endeavor on such a chilly and damp day. However, as I walked up to each group, they expressed disappointment that the weather was preventing them from doing more, and that they were enjoying their time getting to know their new neighbor.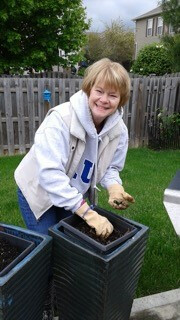 Fishers UMC partnered with Shepherd's Center of Hamilton County to give us an opportunity to bless seniors in our community, but also to build relationships, as it is in the context of relationship that lives are transformed. Besides serving the group shared a light breakfast together; it provided a chance to talk and fellowship, to make a connection.
Below are some of the stories that were a result of this time together. The first describes the experience of a small group that served:
The Seekers Sunday school class signed up for the day of caring with the hope of establishing a continuing friendship with a community member. Eight class members with varying skills, even a few brandishing power tools, showed up to weed, clean out flowerbeds, plant geraniums & mulch. It was obvious that the homeowner, a woman who'd had some recent health problems, had once taken lots of pride in her yard. It was easy to sense her frustration at not being able to attack the problem herself. She began watching the work from her windows, but as we asked more questions on what she'd like done, she decided to put on a jacket & supervise from the driveway. The suggestion that some trees could be trimmed brought a big smile. The happy homeowner was able to give specific directions as she sat on the seat of her walker. Having lost control of some parts of her life, it was clear to see her joy in having a pretty yard, again. We will return to help & learn from this sweet lady!
Another participant wrote, "In the short time we knew so much about her and she may be interested in coming to church but does not drive anymore." Both she, and another volunteer, have since felt a tug to begin bringing their new friends to worship with them on Sundays.
Next is a thank you note from Rebecca describing how the day impacted her life.
Dear Congregation of Fishers United Methodist Church,
On Saturday, May 14th, I was the grateful recipient of your outreach ministries who connected with me through The Shepherd Center of Hamilton County. Five grace filled young women came to my home bearing an essentials gift basket and helped me with a variety of tasks from fixing my closet doors to weeding and preparing my garden, among other things. They worked diligently in the freezing cold to reach out and help me showing the love of Christ in action in the world through the good hearts and willing hands of these lovely ladies. And handsome Max brought me a lovely card decorated with his own original artwork.
Such goodwill is remembered by God and so appreciated by those of us in need of help. God bless each of them, your ministries and your whole congregation with His gracious love. Thank you all!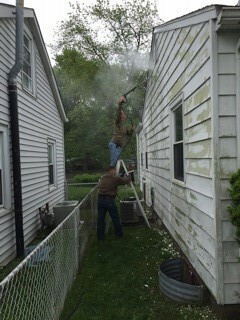 The heart of outreach ministry is engaging with people in our community, whether it is being love in action or providing a cookout at the park. Simply and naturally building relationships with members of our community is nothing extraordinary. It is an opportunity to express care and gratitude for our neighbors—to welcome them into relationship. If you missed the first Day of Caring, no worries, we will be back at it again in the fall helping rake leaves and prepare yards for winter. In the meantime, come to Fun Friday at Holland Park July 15th starting at 5:30pm for a cookout to bless and connect with our neighbors. Hope to see you there!
Oh, and I can't forget a huge THANK YOU to all who served! Well done!
Susan Hobson
Outreach Ministry Coordinator