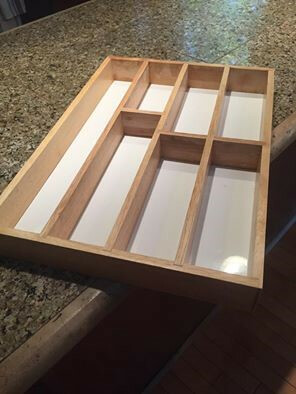 This is my silverware holder from my kitchen drawer. I'm almost embarrassed to admit the last time (if ever) I have scrubbed it out. Sure, for a while it was fine but I've noticed for quite some time it's needed some serious attention. Yes, I open it multiple times a day and notice it, get disgusted and say I'll clean it but always end up shutting it, moving on to something else and it remains a mess. Despite how much it bothers me, I always find something else more pressing that needs to get done. With three very busy boys I was starting to think this drawer was literally never going to get cleaned out but for some reason this morning, despite all of the crazy and stress I've got going on right now, I pulled it out, emptied the entire thing and started to scrub. Slowly but surely, it came clean and really wasn't the insurmountable task I thought it would be. Sure, it has some marks that didn't quite come off but alas, it is almost like new again.
While cleaning it, it dawned on me our relationship with God is a lot like that drawer. Although we know it's there, use it daily when we need to and realize sometimes it needs a little tweaking; sadly, if you are like me, we end up leaving it as it is, think other things are more important and continue to stress about the things that are troubling us. We go to him when we need to, know he's always there, know he could make them better if we just gave it some attention, yet shut that drawer and move along to more "pressing " things until we need him again. Nothing gets better and stays stagnant. Oh the gratification we receive when we finally address what's wrong, take the time to go to him, scrub things up by admitting where we've failed and are made new again!
God is ALWAYS there for us, waiting for us to take the time to be in his presence, admit we've been lacking in attention to him and scrub ourselves free of the goo that has gathered over time. There may be some scuffs left but we are given a fresh start at this thing called life. When things are so hard and you think there is no way you can overcome them, go to him. Jump head first into cleaning up that grit and allow him to work. I'm reminded once again there is nothing insurmountable for God. All by this little drawer. He is good. ALL the time.
Missy Cox