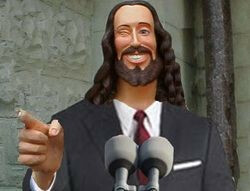 Have you heard we're electing a new president this year? Of course, you've heard . . . there's no escaping it! Every election season I find myself more and more frustrated with the process. I am frustrated with a process that pushes us to reduce complex issues into sound bites and catchy phrases. And rhetoric that focuses more on personal attacks than addressing any of the very real issues we face. And when did it become acceptable to manipulate the human fear response to get elected into an office of leadership? When did Facebook memes become part of the democratic system?
In 1774 John Wesley had this to say about elections: "I met those of our society who had votes in the ensuing election, and advised them
1. To vote, without fee or reward, for the person they judged most worthy
2. To speak no evil of the person they voted against, and
3. To take care their spirits were not sharpened against those that voted on the other side."
Can you imagine what an election season would look like if we adopted these three guidelines? The church (and the people in it) should be setting the standard for healthy dialog, not following behind the world around us. We should be leading the way in justice issues and seeking ways to end human suffering around the world. What if we demanded respectful, meaningful dialog rather than catchy one-liners?
Now if you just really happen to like catchy phrases, try this one: WWJD (what would Jesus do) when entering into political dialog. Jesus challenged the leaders of his time without name calling or character insults. He demonstrated mercy, grace, and healing for people who were "on the fringe." He reminds us that we are all sinners and therefore have no right to judge another person; rather we are to feed the hungry, clothe the naked, visit those in prison, welcome the stranger and love our neighbor as ourselves.
WWJD in this election year? Or perhaps the more important question is what does Jesus want us to do? Can we model our Christian faith in the language we use to discuss important issues? What do you think?
Jill Buckler
Director Of Congregational Relations