WANT OUR WEEKLY ANNOUNCEMENTS DELIVERED TO YOUR EMAIL?
SIGN UP HERE


9.16.20
TO VIEW THE LATEST UPDATES REGARDING REGATHERING AND WHAT FISHERS UMC IS DOING TO PROTECT OUR CONGREGATION, VISIT OUR COVID PAGE.
HAMILTON COUNTY KIDS COATS DRIVE
Clean out your closets and help those in need! It's time for our annual coat drive with our partnership with Hamilton County Kids Coats. Bring donations of new or gently used WASHED coats, gloves, hats, and boots and place them in the large grey bin located outside of Fishers UMC at Door 4 by October 12th. Apparel will be distributed at various churches around Hamilton County in November and help children in need this winter.
MONTHLY BOOK CLUB
Join the Monthly Book Club in September as they read and discuss Forget Me Not by Vicki Hinze. Crossroads Crisis Center owner Benjamin Brandt has lost everything he loved – his wife and son. Grief-stricken Ben lost faith. Three years of trying to find their killers has brought a dead end. Now, a mysterious woman appears seeking answers and help—a victim who eerily resembles Ben's deceased wife Susan. A woman robbed of her identity, her life, of everything except her faith—and Susan's necklace. Their only hope is to work together, trust each other, and face whatever they discover head on. But will that be enough to save their lives and heal their tattered hearts? If you are looking for a way to combine your love of reading and books with a small group atmosphere of fellowship, this is the place for you! We meet on the 4th Tuesday of the month. This month, we will meet on September 22 (Location TBD) at 7:00pm. If you are interested or need more information, contact Kim Arnott at 797-8612 or .
PHILIPPIANS STUDY
We invite you to join Pastor Ben in a 4-week study on the Book of Philippians. In coordination with a sermon series, this study will explore the Book of Philippians, a wonderful book about gratitude and joy – topics that we all need to hear about during this uncertain time. Many small groups will be using this study as well so if you are not involved with a group at this time or if your group will not be participating, consider joining us on Wednesday evenings. The study will be written by Pastor Ben and be held using Zoom on 4 Wednesdays, beginning September 23 at 6:30pm. We hope you will consider joining us on this journey through Philippians!

SIGN UP FOR PHILIPPIANS STUDY
HABITAT FOR HUMANITY
Fishers UMC and Greater Indy Habitat for Humanity are partnering to help a local family build a safe, affordable home this fall! We are looking for 7 people to volunteer on the build site. You don't need any experience to participate. All training, build materials, safety equipment, lunch, and water will be provided.
Date: Saturday, 10/3
Shift Time: 7:45 am – 2:30 pm
Location: Riverside - 16th/E Riverside Dr area (Exact address provided upon registration)
Project: Interior Prime Painting
Homeowner Bio: The Cobbs Family
Age Requirements: Per Habitat's insurance requirements, all volunteers must be at least 16 years old to participate
Questions: Email Peggy Cooke at
Registration is required to receive all of the details for your day and help Habitat maintain the appropriate number of volunteers on site to practice social distancing.

REGISTER TO HELP

CALLERS NEEDED
During this time of online worship only, it is more important than ever to stay connected to our church family. Are you willing to make weekly phone calls to check in on your fellow brothers and sisters in Christ? If so, please contact Jennifer Pugh at 317-849-1805 ext 303 or . She will give you a few names of people in our congregation who would appreciate hearing from their church family.
ORIENTATION
Do you want to know more about Fishers UMC and how you might get plugged-in? Are you new to our congregation and want to know more about our church? Are you interested in becoming a member? If so, we invite you to join us for a 3-week class as we learn more about our church, its ministries and our Discipleship Pathway – Worshipping God, Becoming Like Jesus, Serving the World and Inviting Others, and doing this all Together! This will be a great way to get to know OR re-acquaint yourself with Fishers United Methodist Church. Led by Kim Arnott, Orientation will be held on 3 Sunday mornings (October 11, 18, and 25) at 9:45am via Zoom. Sign up by clicking the link below, in our app or by contacting Kim Arnott. Contact Kim Arnott ( ) for more information or with questions.
FIRE AND WATER STUDENT MINISTRIES
-FIRE & WATER's monthly Night Out starts up Friday (9/18) from 7:00p-9:00p. We will be watching a movie in the church parking lot (weather permitting) so dress appropriately.
-Sunday (9/20) FIRE & WATER will be setting up the Pumpkin Patch from 6:00p-7:30p. This is a huge job and we would love your help. Also, please sign up for a two hour shift working at the patch at https://signup.com/go/ovWfWsG. It takes about 700 serving hours to make the patch a success. This is our church's biggest fundraiser, we'd love it if you could be involved.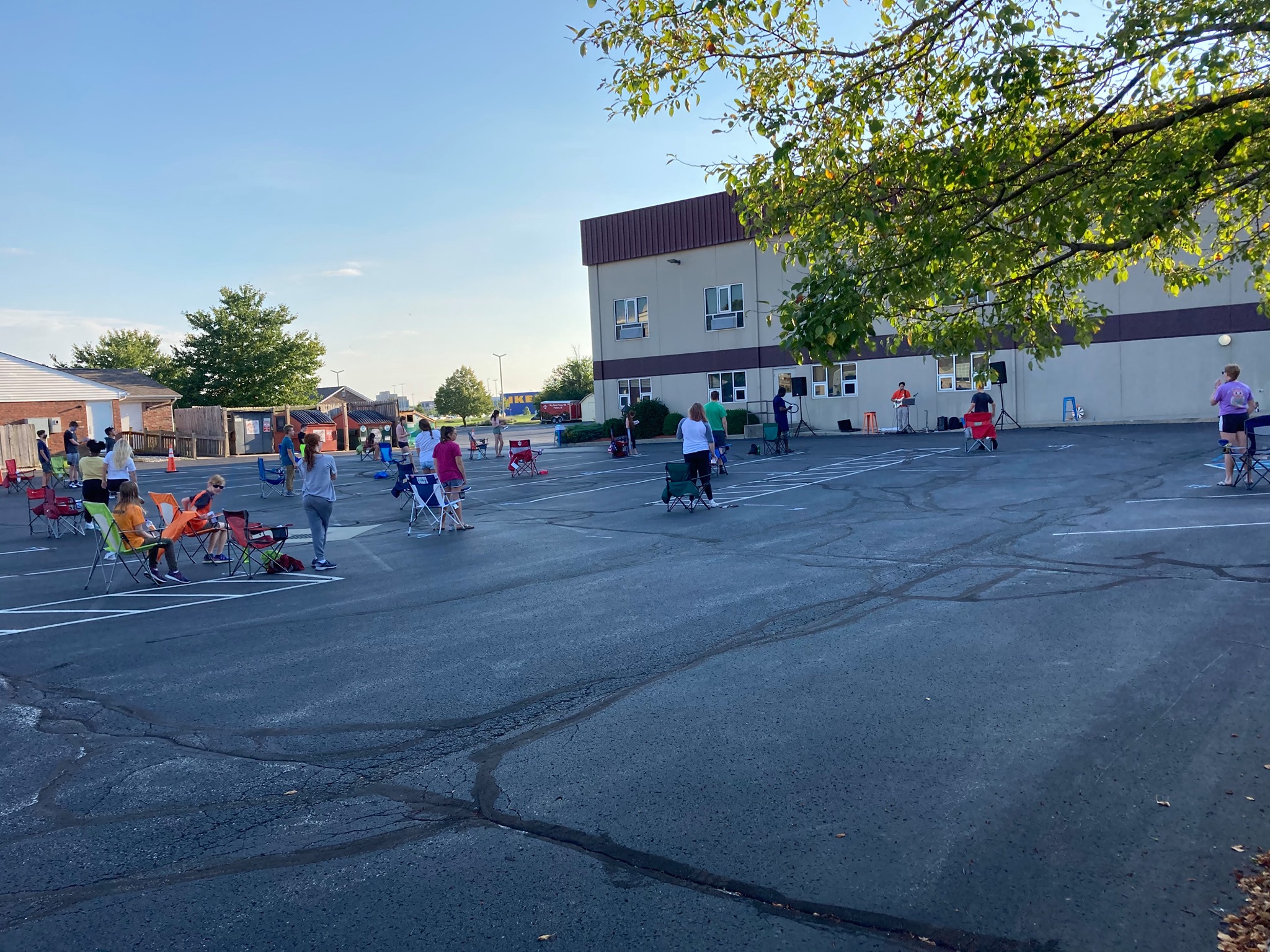 Just a reminder, all FIRE & WATER Sunday nights practice social distancing as seen in the picture above. If you have any questions of how we are keeping your kids safe, email Liz Simmonds or Troy Richards .

SIGN UP TO BE INSIDER HERE