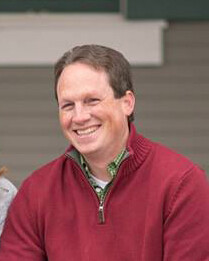 Ben Greenbaum
Associate Pastor
Dr. Ben Greenbaum, a native of New Orleans, is a graduate of the University of New Orleans (1998), Dallas Theological Seminary (Master of Theology, 2003), and Asbury Seminary (Doctorate of Ministry in Preaching and Leading, 2017).
In 1999, Ben married a native Hoosier, Shari. Shari grew up in Greenwood and attended Center Grove High School. Shari, a graduate of Indiana University, works as a nurse at Riley Hospital. Ben and Shari met in 1996, while serving with Campus Crusade for Christ in inner-city Chicago. They have two young daughters, Savannah (11) and Charlotte (6).
Ben loves Jesus, spending time with his family, worshipping with brothers and sisters in Christ, talking theology, reading, exercising, fishing and sports. He's an avid (formerly idolatrous) fan of the New Orleans Saints and LSU Tigers.